Welcome to Marathon MONTH Philadelphia! Whether you are training for and walking, jogging, running, or racing the Philadelphia Marathon, Half Marathon, 8K, or just want to vibe off of the city's energy – this is our Super Bowl!
Let's talk to an international runner, shall we? Meet Simon Ward, who is running the Half this weekend and connected with us this summer as an overseas member of Philadelphia Runner. Since his first visit to Philly this year, he has "been amazed and enamoured by its beauty, vibe and incredible running scene."
In Simon's words, without further ado:
My first morning run through the stunning suburbs of Philly had me buzzing, and I immediately entered the Philly 10K and Half Marathon. I travel to Philly on business regularly now, so it is just so brilliant that I can affiliate myself to such a good running community.
I am a fairly serious athlete, competing Globally, and peaking with a World Championship Bronze Medal in 2022. Next year I have The World Duathlon (run, bike, run) championships in Australia, a race I am targeting Gold, and numerous international events, but will look forward to races in Philly with joy and aligned spirit. I truly feel like I have found my "tribe"…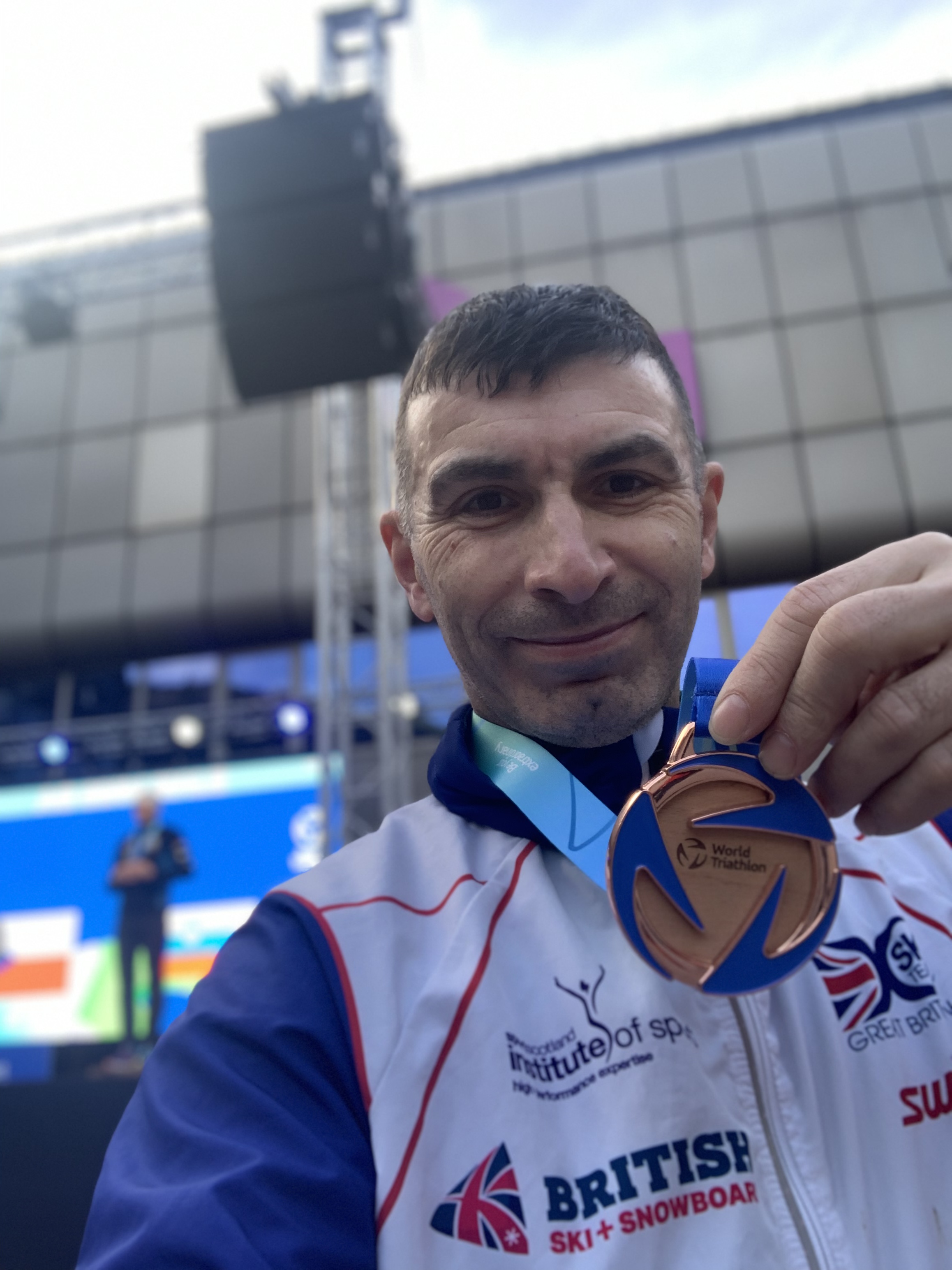 Who are you? Who do you run and/or train with? My name is Simon Ward, and I am based in the United Kingdom, competing for my local club Hermitage Harriers based near Leicester in the UK.
What is the reason you're being featured? After a number of business trips to Philadelphia, and obviously falling in love with your amazing city, I was amazed at the running heritage, and the quality of races in the city and its surrounding areas. I decided that I would enter the Philly 10K and The Patriot Challenge, so really looking forward to returning to Philly for this amazing event. Despite a stress fracture earlier this year, I am currently training for the World Duathlon Championships in Australia next year, having won a world championship Bronze medal in 2022…it is hoped that I can carry that form and luck into 2024. Sadly the stress fracture meant I missed the World Half Marathon Championships in Riga this year, so this race weekend is my comeback race – really hoping to just survive!
I run in Nike Alphafly shoes, which along with my Garmin 920XT, are my favourite 2 things I own! I use a ginger–based energy supplement called Active Root, which is very gentle on my stomach and great for long runs.
When did you start running? I started running when I was 8 years old. I grew up in an underprivileged household, and we couldn't afford the bus fare to school, so I ran 6 miles there and back every day. By the time I got to high school, no one could touch me at distance running, and I still hold numerous records.
Where do you normally run? I train with my club every Tuesday, and train in the Peak District National Park in my UK home. It's similar to Yosemite, and great for cycling and running – although I don't swim. I swim like a duck, its rather embarrassing to watch.
How can we continue to follow your journey? @drivenwinner on Instagram and Twitter
Stay locked in all week for more stories, race tips, and highlights from our vast assortment of products. Do you have a story that you would like to share? A runner that you would like to see featured? Send us an email: brodie@philadelphiarunner.com.