The Philadelphia Marathon course takes you on a 26.2-mile tour through historic and scenic Philadelphia. The Philadelphia Marathon is consistently listed among the top 10 marathons in the country and is a local favorite. The course is USATF sanctioned and course–certified, a top qualifier for the Boston Marathon, and offers prize money through 5th place. If you live in the city, there's also a prize for the first Philadelphians (male/female) to cross the line!
Banner photo credit: Philadelphia Marathon
When is the AACR Full Marathon?
The full marathon is on Sunday, November 19th and starts at 6:55AM for Wheelchair/Handcycle Athletes and 7AM for Runners/Walkers. If you are participating, plan to get to your corrals around 6 – 6:15AM.
Where is the AACR Full Marathon?
The full marathon starts at 22nd Street/Benjamin Franklin Parkway. The course winds through Old City, University City, Fairmount Park, Manayunk and more before ending near the Art Museum.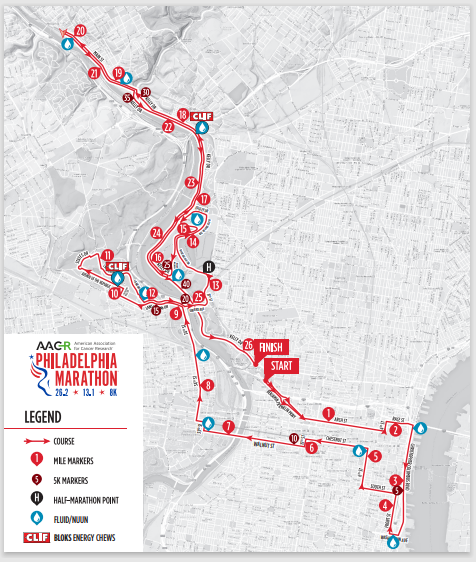 How to get to the starting line?
Public transportation is your best bet. Many roads in the area of the start/finish line are closed and parking is limited. Save yourself the stress on race morning and plan ahead.
Ride a bike: Indego
Take public transportation: Septa
Pace teams will return to the marathon this year: 3:00, 3:10, 3:20, 3:30, 3:40, 3:50, 4:00, 4:10, 4:20, 4:30, 4:45, 5:00
Where will there be hydration stops on the half marathon course?
Fluid Stations will be set up at the race start and finish and throughout the length of the course. Nuun Lemon Lime Endurance will be offered in blue & white cups, along with water from ACME Markets. There will be CLIF BLOKS energy chews at certain stations for the AACR Philadelphia Marathon (past Mile 11, before Mile 18, and past Mile 22).
Fluid Station Locations:
Columbus Boulevard & Race Street – Mile 2.8
Front Street & Washington Avenue – Mile 3.7
6th & Walnut Streets – Mile 5.1
31st & Walnut Streets – Mile 7.1
34th Street & Fairmount Avenue – Mile 8.5
Avenue of the Republic @ Carousel House – Mile 10.2
Lansdowne Drive @ Sweetbriar Lane, just after traffic circle – Mile 11.8
Edgley Drive @ Power Corps Headquarters Building – Mile 14.4
Kelly Drive & Fountain Green – Miles 15.8 & 24.8
Kelly Drive & Ferry Street – Miles 17.8 & 22.3
Main Street & Ridge Avenue – Miles 18.9 & 21.3
Main & Cotton Streets, Winnie's LeBus – Miles 19.8 & 20.2
Your friends at Philadelphia Runner have put together a Pre-Race Checklist for Philadelphia Marathon Weekend! Forget something at home or need an extra layer or accessory for race morning? We've got you covered. Continue your online visit with us, or stop by one of our four store locations on Friday or Saturday:
PR Center City: 1711 Walnut Street; Open 11AM - 7PM Friday, 10AM - 7PM Saturday
PR University City: 3621 Walnut Street; Open 11AM - 7PM Friday, 10AM - 7PM Saturday
PR Manayunk: 4358 Main Street; Open 11 - 7PM Friday, Open 10AM - 7PM Saturday
PR Glen Mills: 505 Glen Eagle Square, Glen Mills, PA; Open 10AM - 6PM Friday, 10AM - 7PM Saturday