Welcome to Marathon MONTH Philadelphia! Whether you are training for and walking, jogging, running, or racing the Philadelphia Marathon, Half Marathon, 8K, or just want to vibe off of the city's energy – this is our Super Bowl!
Let's talk to some of our fellow local runners, shall we? Meet Earl Rutter, Jr. from Benny Bridge Crew. He was facing a situation where he was turning another decade, never ran a marathon before, and wanted to do something big. Since that moment he has run 11 other marathons and is "doing the Philly full" this November, which will be his 3rd time running it.
In Earl's words, without further ado:
Tokyo Marathon 2016. In late 2015 I had been thinking of what I was going to do to celebrate turning another decade in 2016. I wanted to do something big. One night after a group run, a bunch of us starting talking about the World Majors and mentioned Tokyo. At this time, I had only been running for a few years and was not even thinking about a marathon. Japan was a place I always wanted to go, and this idea caught my interest. It definitely would meet the requirement of doing something big in a few ways. I told them I wanted to do it and it was decided.
I booked the trip and started training. The plan was to be in Tokyo for a week and Kyoto for an additional week. I would fly out of Toronto and into Haneda International Airport. Two of my running friends joined, one ran and one spectated.
I arrived February 24, 2016 which gave me a few days to sightsee since the race was February 28th. Sightseeing involved getting a city view from the top of the government building, going to Mount Fuji, a city tour of a few temples and a Taiko demonstration. Taikos are a type of drum played in Japan. We also visited the newly opened Shake Shack Tokyo. The menu was similar but the line to get in stretched for as far as we could see. That night we grabbed dinner and asked the bartender where we could go for Karaoke. Turns out they send all the tourists to this place. It was us and the Austrailians! It was a lot of fun.
Race day arrived and I finished my first marathon in 4:14. It was tough but an amazing experience. There was a brass band playing the Rocky theme song which was a nice touch from home and crowd support the entire way. Many people watching shouted in Japanese, "Keep the fire, don't give up." After the marathon we went back and took our picture with the Love Statue near our hotel, another nice reminder of home. It was then off to the post dinner celebration.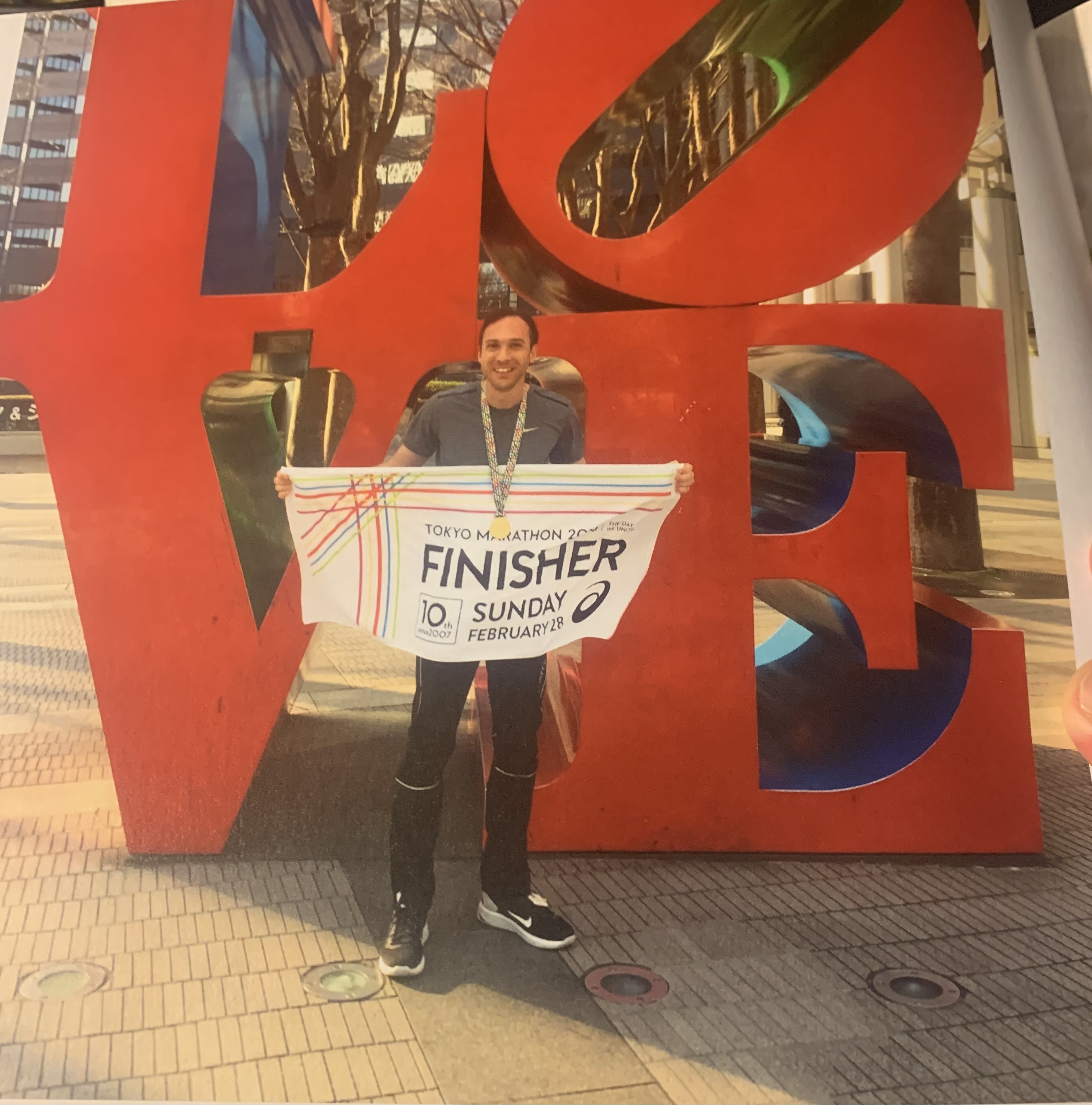 The next day our friend who spectated left for the States and myself and a friend continued onto Nagano for a temple tour and visit to the snow monkeys. Snow Monkeys are native to Japan and the only monkeys who live in a cold climate as Nagano is in the mountains.
On March 1st we left for Kyoto on the Shinkansen which is the bullet train. It is the premier train in Japan and an incredible experience. We arrived in Kyoto which is the only city spared in the Allied Invasion [of World War II] and is known for its many temples. In the next few days, we would visit several other temples and participate in a traditional Japanese tea ceremony. This involves a monk who brings out the tea for the host to serve it. We also visited a Sake Museum and tasting center. We were shown the steps taken to make Sake and the museum had traditional tools that had been used to make Sake from decades ago. The last stop was in Nara for a final temple tour. Nara is famous for their free roaming deer. The deer are sacred and considered messengers of God. They will come up and bow their heads in hopes you give them a deer cracker.
I left on March 4th for home. It was an amazing trip and I plan to visit Japan again at some point. Since then, I completed 11 additional marathons for a total of 12. I will be running lucky number 13 in Philly this fall.
Both the Tokyo Marathon and our Philadelphia Marathon are sponsored by our good friends at ASICS. Keep it locked right here all month for more stories, race tips, and highlights from our vast assortment of products. Can't wait that long? Pop into one of our 4 locations (Center City, University City, Manayunk, or Glen Mills) for everything ASICS.....or shop with us online HERE. Do you have a story that you would like to share? A runner that you would like to see featured? Send us an email: brodie@philadelphiarunner.com.