by Lubin Park & Lionel Brahim Brodie III
We're all friends by now, yes? So I can be honest: the ghosts and ghouls of the Halloween Season aren't the only things that give me the chills. My alarm every weekday morning. Text messages from unknown numbers. Any coffee shop when they run out of oat milk. Sundays. Mondays. TUESDAYS! Isn't Tuesday the worse day of the week? I mean you brace yourself for Monday…..survive…..and then POW Tuesday punches you right in the face! Frightening…..
Do you know what else can be ridiculously scary? Running. Yeah yeah this probably isn't the forum for such revelations, but let's just be honest. Picking the right shoe – and corresponding insoles. Pants vs. shorts vs. long tights vs. half tights. Singlet or short sleeve? Or long sleeve? Or quarter zip? Half zip? Full zip? Yikes!
Cap or beanie or nothing? Sunglasses? Music? Don't even get me started on socks. This is ALL before you put one foot in front of the other and begin to walk, jog, run, race. Spooky right?
The Cloudmonster is a great, durable option for your everyday wears, training, and runs. I've been clocking miles in the original colorways since their debut last year and On keeps releasing fresh color after fresh color.
Wait, I just had a WILD idea! Once a year we (Philadelphia Runner) buck the traditional Urban Scramble format for a special costume–themed 'Spooky Scramble'. Join us Thursday, October 26th for a fun run full of tricks and treats. Our friends from On will be there! Runners of all abilities are welcome, and you can choose whatever distance you like. We will have a contest for best costume with a special prize. NOTE: the run starts at our Center City location and ends at Craftsman Row Saloon, 112 South 8th Street. The run will be rated PG. The bar – you must be 21 years of age or older and have your ID for verification.
Back to the shoes….. Before we jump into the specifics, our very own Lubin Park has been chasing some goals in the Monsters. Here are the particulars in his words…..
The Individual Experience, as shared with us by our very own Lubin Park:
I ran in the Cloudmonster during my training block last year as I was preparing for my first 26.2 at the historic Philadelphia Marathon. As weekly mileage ramped up and the weekend long runs started to take their toll, I was quickly in the market for a shoe that would provide an aggressive amount of cushioning without compromising reactiveness.
On commends their Cloudmonster trainer for its "massive cushioning and max energy". I was also referred to the shoe through various YouTube videos and running blog posts. It seemed like there was a general consensus vouching for durability and comfort, so I ordered them at Philadelphia Runner's Center City location.
I could feel the immediate benefit my On Cloudmonsters (which I nicknamed "The Kraken " on Strava) brought to my medium to long distance runs. It was firm enough to support my foot upon landing, yet had ample midsole to disperse impact on asphalt. The thin tongue and the spacing of the laces cradled the top of my foot in just the right way.
All in all, On's Cloudmonster lived up to its name. It casts an enormous shadow over any shoe rotation and demands mileage to feed its insatiable appetite. I highly recommend trying this shoe out for your next long run.
The Tech Talk:
Featuring our biggest CloudTec® ever for massive cushioning and max energy. A monster of a ride on the road.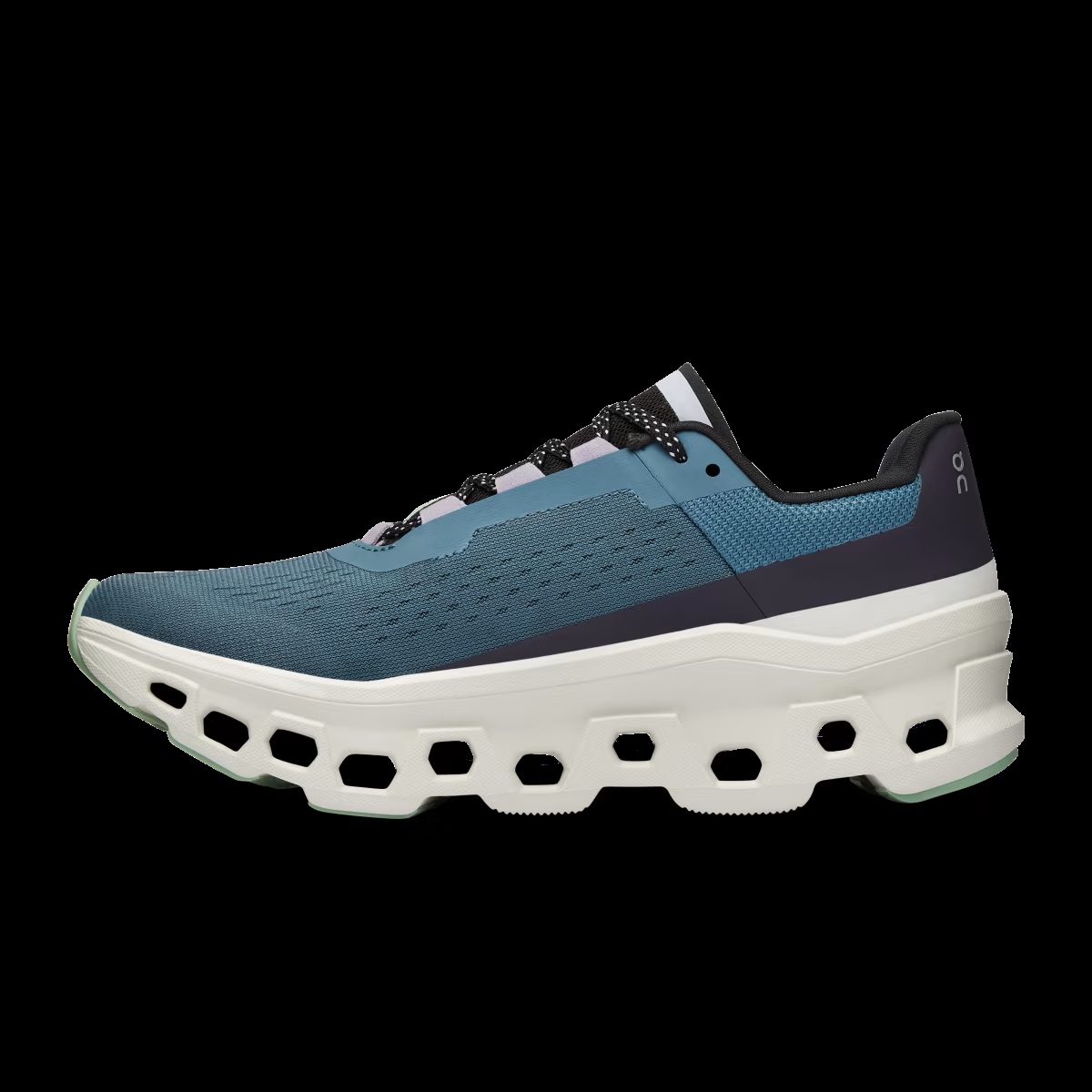 The Specs:
Weight – 9.7oz (men's), 8.1oz (women's)
Heel–To–Toe Drop – 6mm
The Key Features:
• Huge CloudTec® for a big rebound sensation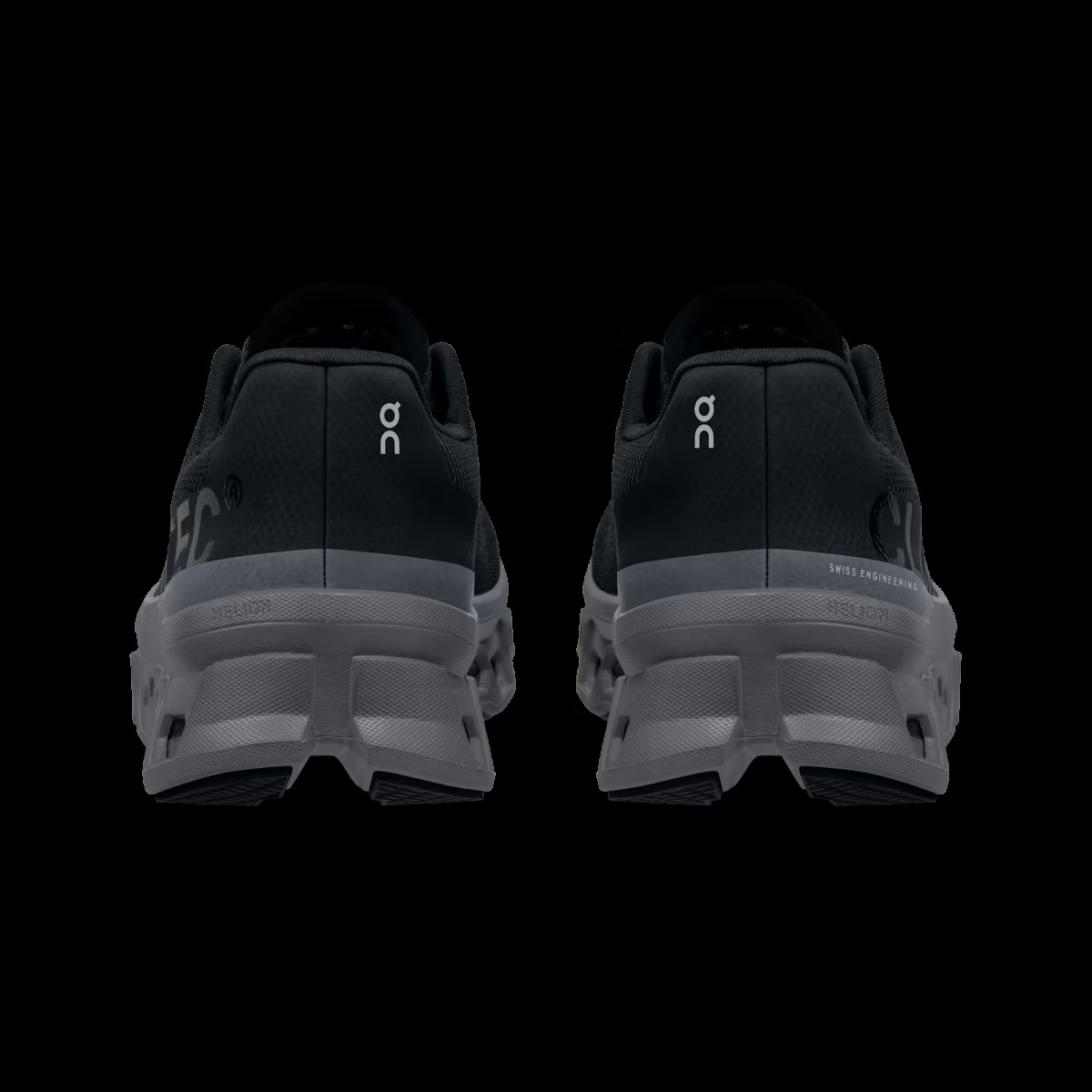 • Soft sockliner and upper for next–level comfort
• Explosive Speedboard® for maximum energy return
• Radical rocker shape for effortless forward momentum

• Super–soft landings with Helion™ superfoam
• Light, durable, temperature resistant
The Finish Line:
The Cloudmonster is available NOW! Our staff of experts can answer any questions you have about this shoe, On, and other product in our 4 locations (Center City, University City, Manayunk, or Glen Mills). Stop in to say hello, schedule a gait analysis, or order a pair from our online shop today! And if the length of this blog post didn't terrify you, check us out this Thursday at the Spooky Scramble!