Philadelphian Perspectives is our new series in name, but a concept that has been authentic to us for the last 2 decades: highlighting the individuals who give the Philadelphia Running Community its flavor. A lot of us know our favorite Philly races, as well as bucket–list competitions for which we are willing to travel. We'll cover all of those topics with Perspectives, hoping these accounts from your fellow runners are inspiring and relatable.
We recently caught up with Philadelphia Runner Rachel Bambrick for an insight, in her own words, into her experiences with this past year's Cocodona 250. As originally shared on Rachel's personal blog: Rachel Runs On.
Banner photo credit: Howie Stern @howiesternphoto
We left Kelly Canyon and the sun started to rise. I'll be honest, this next section to Fort Tuthill stunk for me. I had made it through one of my toughest moments, but still had to push another almost 9 miles to see the rest of my crew. But we did it. Honestly, we just kept moving, and eventually the aid station appeared. I'm sure I wasn't pleasant to be around, but Ash stuck with me. I rolled into Fort Tuthill, still wrapped in my foil blanket, and told Ash "Well, after all that, now I certainly HAVE to finish. There's no way that night is going to be all for nothing."
After some regrouping at Fort Tuthill, I headed into the aid station to check out. A medic walked over and said she just had a few questions for me before I could leave. "What's your name? Where are you? What year is it? What's the day of the week?" I answered all the questions correctly, but I felt the lag in my brain as I tried to process each one. Like I was there, but just behind a cloud of sleep deprived fog.
We were released, and Travis and I headed out towards Walnut Canyon. We wove through smooth trails, picking waypoints to run to and eventually reached a bit of a climb. I saw a sign for "Vista" and got excited. Unfortunately once we reached the top, the Vista sign pointed away from the course markings. Oh well. After reaching the top of the climb, we wove through what truly felt like a never-ending maze of trail. I tried to focus on the moment and not check the distance or the time, but I felt like we were just weaving in endless circles…for hours…and hours.
As I started to spiral, I caught myself and implemented a new mantra. "This has to get better." Because it would. It wouldn't wind on forever, despite what it felt like. The aid station would one day appear, and it would get better. I think Travis sensed my frustration, and just kept with me here, quietly and gently pushing me on. I found a new cadence for my movement, almost like a fast "race walk," put my head down, and moved. Continually repeating, "this has to get better, this has to get better" until Travis looked at me and said "you wanna know something?" My eyes widened. "You're about a half mile from the aid station." "STOP! You're joking!" I grinned. And then there it was.
Photo credit: Howie Stern @howiesternphoto
I arrived to Walnut Canyon and to cheers and beaming faces from my crew. Something was shifting. The end was in sight. This crazy, wild dream was starting to come together. Jesse looked at me, smiling, "you can rest for however long you want. You've got all the time."
I found myself still seeking the structure of a time to aim for, and we decided on an hour rest. I was nervous about heading up Mt Elden at night and feeling loopy like the night before. I laid down, but my brain wouldn't turn off. Adrenaline was pumping. This was happening. After about 45 minutes, I hopped up, bundled up with cold gear in prep for Elden, scarfed down some ramen, and Kyle and I headed out. "See you at the finish!" my crew called.
The sun began to set, and a gorgeous full moon rose above us, painting the night sky with oranges and purples. I kept poking Kyle, smiling, and saying "it's happening. It's all really happening."
We trekked on until we reached the base of Mt Elden, and after a break for food, we started our ascent. The temperature dropped as we climbed through the rocky switchbacks. We stared up the mountain at the tiny headlights of other runners, weaving across the night sky.
Suddenly a bright light appeared. As we approached Scott appeared, photographing runners on their last climb! I had just seen him at Walnut Canyon and forgot to pass along an important message. "Scott! Hi! Wait!! I have something to tell you!! Gagz from Philly says hi!" He smiled and laughed, and we took a quick selfie to send, and I went on my way.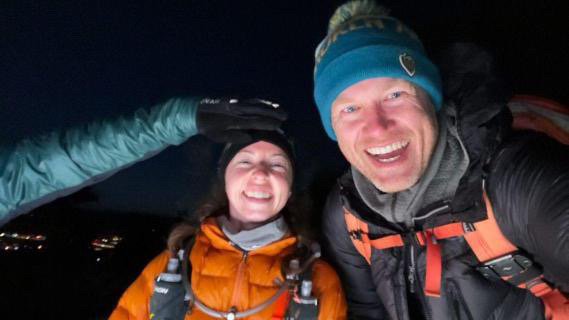 Photo credit: Scott Rokis @scottrokisphoto
As we ascended, the climb got more challenging, but honestly I was loving it. When else would I be climbing a mountain, in cold temps, whipping winds, in the middle of the night? We slid down snow, scrambled on hands and knees, and then there it was. Our Mt Elden summit. I stepped up, sat down, and stared out at the twinkling lights. A giggle bubbled up. I just started laughing. "We're here! This is crazy! How?! I can't believe it."
Winds gusted, cold shocked my face, but I couldn't stop beaming. We hiked over to the Elden aid, and I plopped down by the heater. I scarfed down some coffee & hot chocolate and shortly after, off we went. Only about 9 miles separated me from the finish.
My high from summiting Elden dropped as I descended. This descent is steep, my legs were trash, and my stomach turned on me finally. Thank god Kyle was with me because the navigation through here got a bit tricky too.
After a quick mini meltdown, I screwed my head back on, and told myself I hadn't come all this way just to stop. We moved on. Eventually figures appeared in the distance cheering us on. Flagstaff must be near. Trails turned to road and we started running.
Chills spread across my skin, tears welled in my eyes. I rounded the last turn and there it was. Heritage Square, a sight I'd seen in countless pictures and videos, a sight I'd dreamed of seeing myself. The Cocodona finish. I didn't know how (I'm not sure I still know), but I was here. I ran across, my dad pulled me into a hug, my mom was crying, and I beamed in disbelief. 250 miles, a dream come true.
Photo credit: Howie Stern @howiesternphoto
The End.
Or is it? Tune in next week to find out.....
Ready to create your own adventure? Did you participate in our new Trail Race: Kettle Cooker Five & Dime? Not too early to sign up for next year! When you're ready to suit up, pop in to one of our four locations (Center City, University City, Manayunk, or Glen Mills) or continue your online visit and shop our extensive selection of trail footwear, apparel, accessories, and gear.