Philadelphian Perspectives is our new series in name, but a concept that has been authentic to us for the last 2 decades: highlighting the individuals who give the Philadelphia Running Community its flavor. A lot of us know our favorite Philly races, as well as bucket–list competitions for which we are willing to travel. We'll cover all of those topics with Perspectives, hoping these accounts from your fellow runners are inspiring and relatable.
We recently caught up with Philadelphia Runner Rachel Bambrick for an insight, in her own words, into her experiences with this past year's Cocodona 250. As originally shared on Rachel's personal blog: Rachel Runs On.
Banner photo credit: Scott Rokis @scottrokisphoto
After some rest at Schnebly to try and reset my brain scramblies, I hopped out of the van to find a familiar face! It was Kristin who I had spent a majority of Day 1 with! It took my brain a second to process it was her, and while my heart broke that she had to DNF, I was overjoyed that she was still out supporting.
We all chatted a bit and then my dad and I set off down another long access road. After unfortunately having to leave him in our last pacing section, I was so grateful we were able to share these miles together. The day faded to night, and we could have sworn our path was following a giant lake. In actuality…it was just a field. Brain scramblies or not, the forest shadows can really play tricks at night! Having both my parents pace me was such a special part of my race, and I was so lucky to share it with them.
Photo credit: Travis Schlauderaff (@feelinfrawsh) & Ashley Kniffen (@ashleybkniff) of @silkandsagefilms and @runafilmsco
We arrived at Munds Park and after just a quick sit down, Ash and I headed out for a big section. She would be with me from Munds to Fort Tuthill (23.3 miles), and most of it through the night. We had one aid station in between which would make for a good mental checkpoint.
When we started, I quickly realized that my lack of sleep over the past few days was catching up to me. Not even a few miles into this section, I told Ash, "I'm going to need a trail nap or two here, I'm so tired." After getting turned around with another group of runners (and a hilarious moment where all of our pacers ran in opposite directions in an effort to find the correct one), Ash found the way, and we also found a spot for me to lay down.
Unfortunately, I ran into the same problem from night one when trying to sleep. As soon as I laid down, my body temp dropped, and I started shivering. Two trail nap attempts later, I still wasn't any more rested and I was losing time. Ash tried some alerting breathing with me, I tried music, nothing was working. I just got up and tried to focus on following her footsteps.
"Just keep moving, follow her feet, stay aw…a…ke……" I slipped off to sleep, while standing, while walking. My brain tumbled through reality and dreams with each step. I was sleeping standing up. On top of it all, we were attempting to navigate downed trees that completely covered the trail. We crawled on hands and knees, and straddled tree trunks to climb over. Every time I straddled the trunk and momentarily sat, I immediately fell asleep again. This was a problem. I was losing it. Dreams and reality blurred together, and it felt like everything was crumbling down.
We tried for another trail nap and this time I buried myself tight under my foil emergency blanket. Somehow, someway sleep finally set in.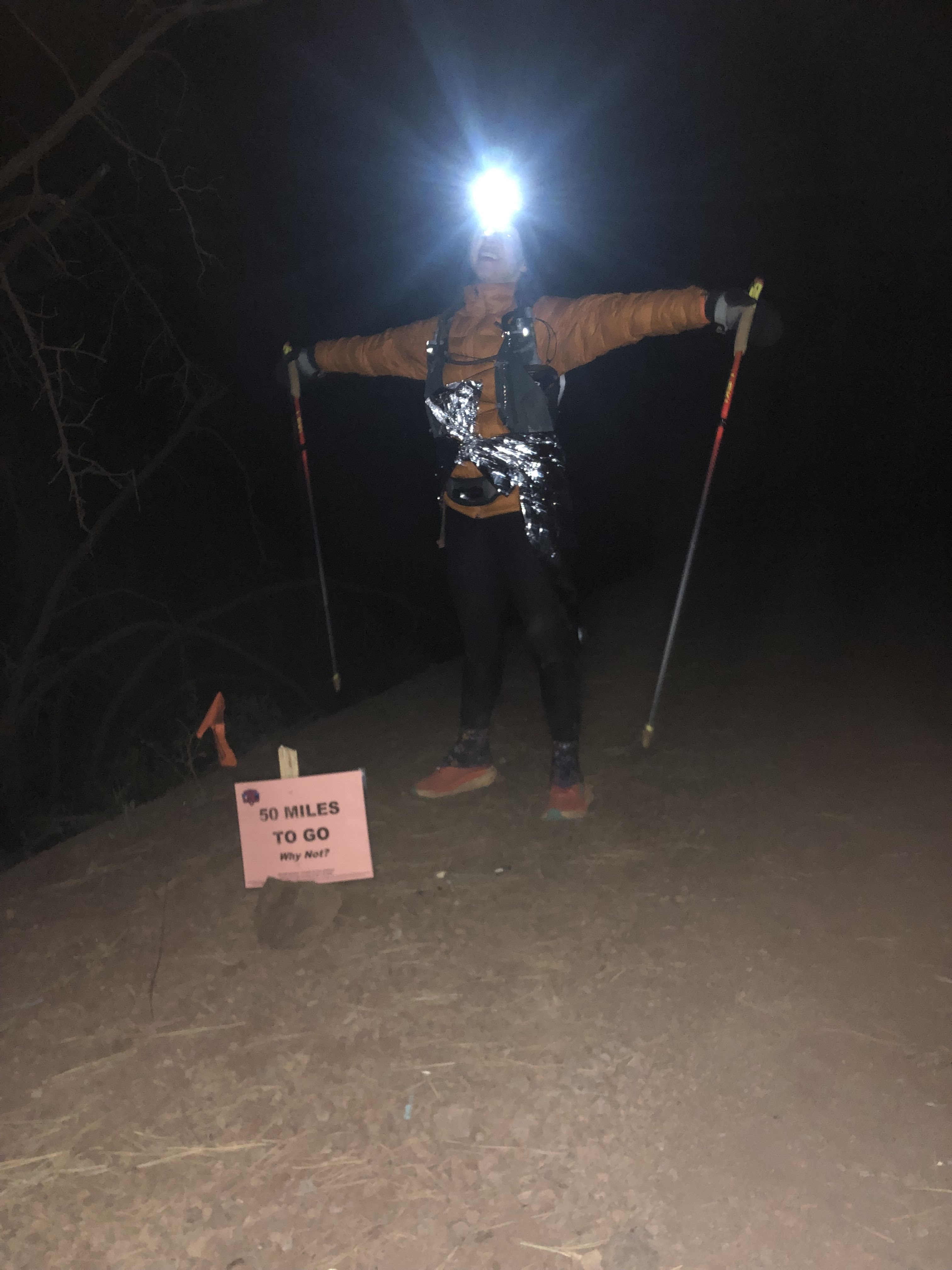 Photo credit: Travis Schlauderaff (@feelinfrawsh) & Ashley Kniffen (@ashleybkniff) of @silkandsagefilms and @runafilmsco
I woke up with a start and jolted up. The headlamps that I had previously seen in the distance on the trail were gone. It was just Ash and I, sitting in the dark. "Ok I think I finally slept, I can kind of think again, wait…where is everyone? Are we past cutoffs? What do we do?!" My brain panicked. I hopped up, tied the foil blanket around my waist, and started MOVING. I was convinced that I had slept for hours, and we were going to be pulled off the course. I just ran.
Finally, my brain started to settle, and I could formulate my thoughts. "Are we near cutoffs? The race cutoffs or the ones we as a team made for me?" Ash reassured me that we were in fact nowhere near race cutoffs, and actually we were closing back in on what my team wanted me to do. "You're okay Rachel. You can slow down, you're going to be okay." I could've cried. I exhaled a breath I felt like I'd been holding in for hours. We were going to be okay.
We pushed into the night and as we neared Kelly Canyon aid we closed in on some other runners. Seeing everyone out there, it hit me, we were all walking zombies. Sleep deprivation is no joke, and it was crashing in on all of us. Sitting at the aid station, I watched pacers look at each other wide eyed and shake their heads, gesturing at their runners. "I don't know what to do with him!" I overheard. When I say crew and pacers are so important in races like this, this is why. Without Ash I don't know what I would have done. I would have gotten completely lost, actually slept for hours, or injured myself trying to navigate a downed tree. She helped me problem solve and miraculously kept me on pace.
Photo credit: Travis Schlauderaff (@feelinfrawsh) & Ashley Kniffen (@ashleybkniff) of @silkandsagefilms and @runafilmsco
To be continued…..next week.....see you then.....
Ready to create your own adventure? Did you participate in our new Trail Race: Kettle Cooker Five & Dime? Not too early to sign up for next year! When you're ready to suit up, pop in to one of our four locations (Center City, University City, Manayunk, or Glen Mills) or continue your online visit and shop our extensive selection of trail footwear, apparel, accessories, and gear.