Philadelphian Perspectives is our new series in name, but a concept that has been authentic to us for the last 2 decades: highlighting the individuals who give the Philadelphia Running Community its flavor. A lot of us know our favorite Philly races, as well as bucket–list competitions for which we are willing to travel. We'll cover all of those topics with Perspectives, hoping these accounts from your fellow runners are inspiring and relatable.
We recently caught up with Philadelphia Runner Rachel Bambrick for an insight, in her own words, into her experiences with this past year's Cocodona 250. As originally shared on Rachel's personal blog: Rachel Runs On.
Banner photo credit: Anastasia Wilde (@_anastasiawilde)
Unfortunately, I wasn't able to get much of the sleep I desperately wanted at Dead Horse, and after about an hour of tossing & turning the noise of the aid station proved to be too much. I got up and we opted to keep moving and take some trail naps throughout the next section.
Travis was up to pace next. He kindly and selflessly stepped in to pace when we had to change up the pacing plan. We set off for Deer Pass through windy single track. The moon was gleaming, and the light was bouncing off the clouds in a magical way. I kept stopping to take it in (and confirm with Travis that this was in fact real and not a hallucination). After a few trail naps and a bit of actual running, we arrived at Deer Pass, and I'd made up enough time to earn some sleep.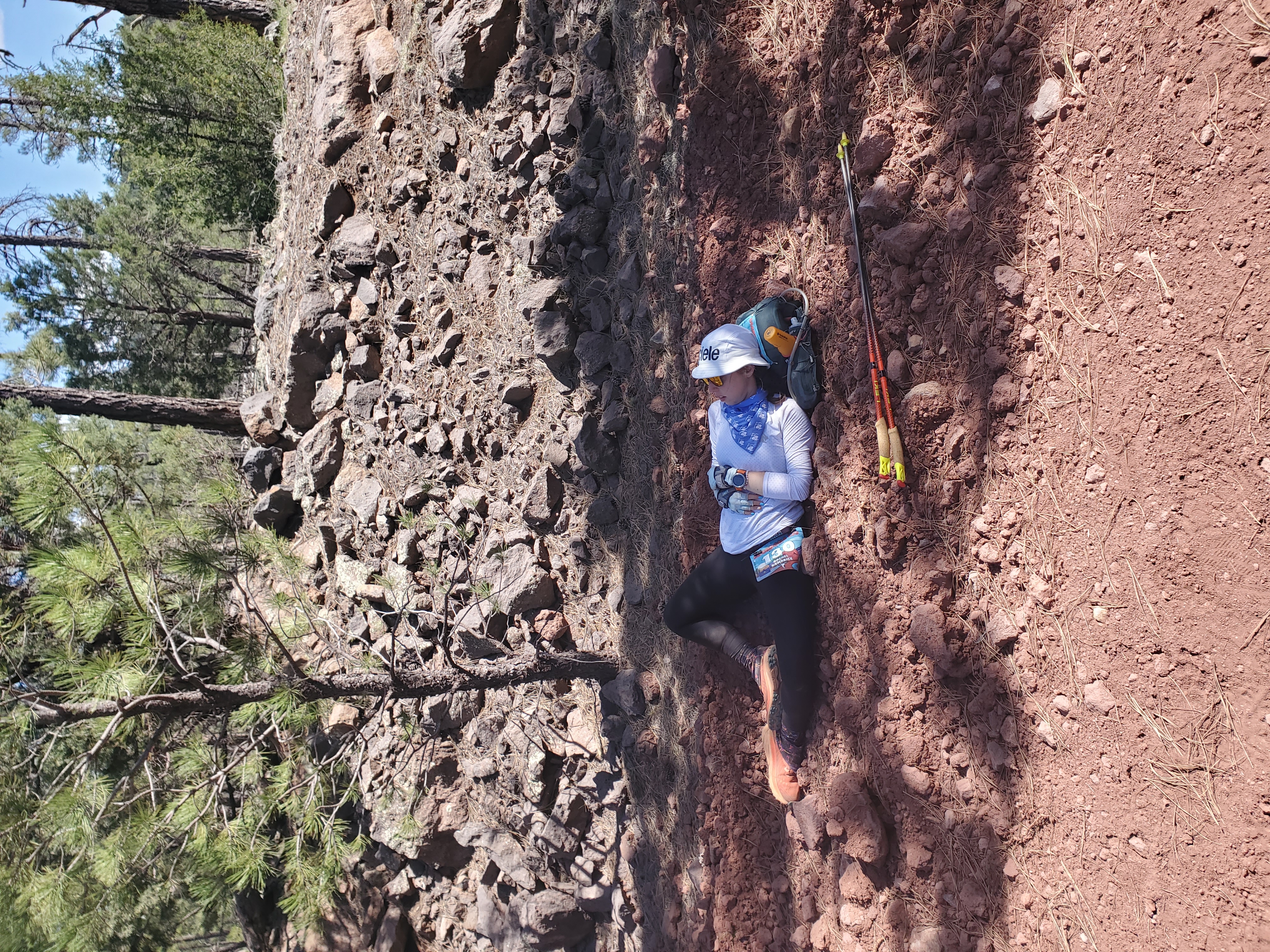 Ash and I left Deer Pass towards Sedona, and I was so excited because the timing was working out, so I'd see Sedona in daylight! About a half mile into the section we heard loud coyote howls. We stopped, wide eyed. They sounded like they were right on top of us. We crouched down and turned off our lights. The howling subsided. After a quick call to Travis to confirm what we should do if we do encounter them, we slowly walked further and kept our lights off for a small stretch. Luckily, no true coyote encounters.
The section coming into Sedona was gorgeous. The sun was rising, and the red rocks were looming all around us. Being so small and up against something so vast was the perfect metaphor for this race.
We made it into Sedona relatively unscathed in my memory, and after a quick break Kyle and I headed out towards Schnebly Hill. We were about to CLIMB. Over 4,000 feet in 17 miles.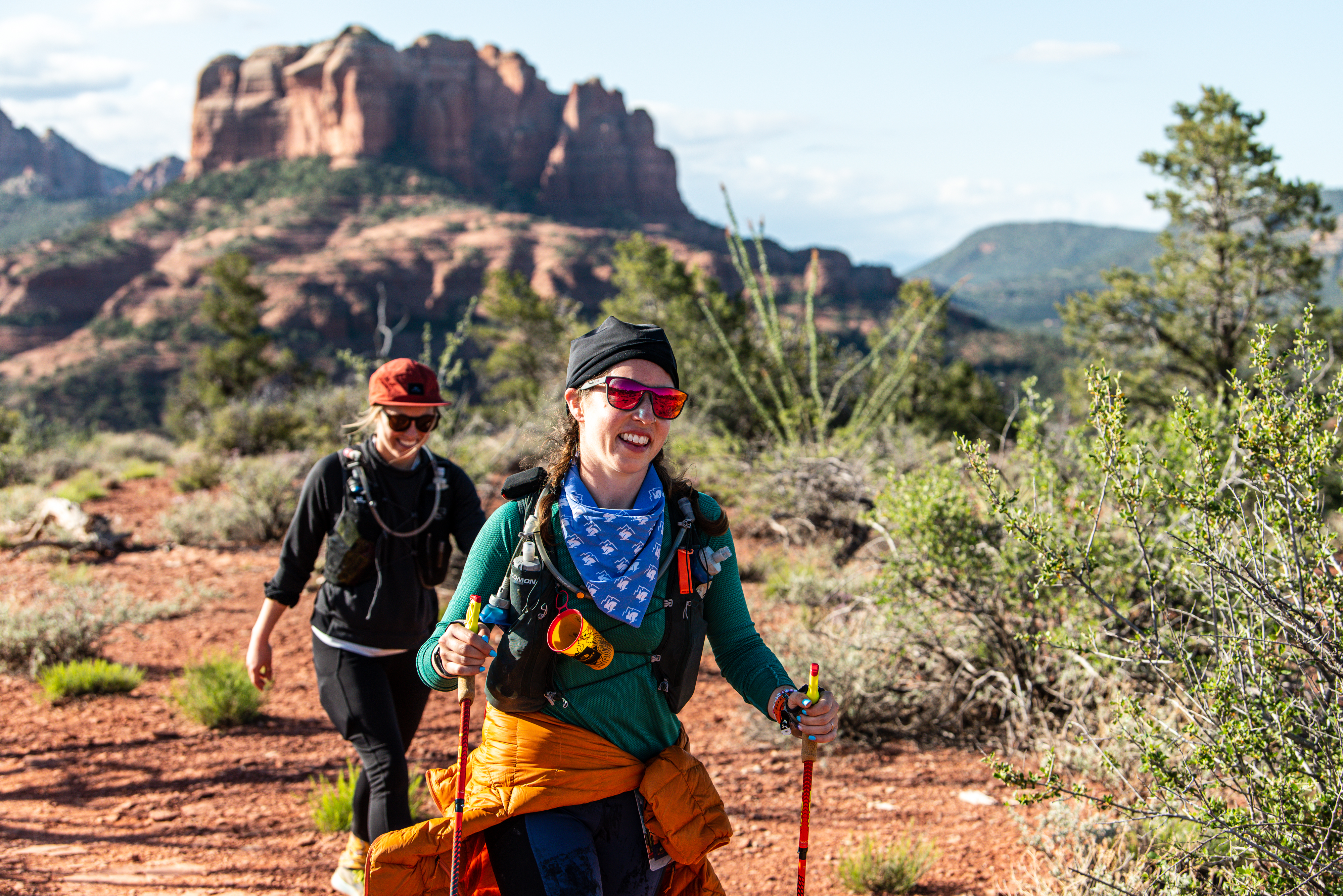 Photo credit: Anastasia Wilde (@_anastasiawilde)
We wound through Sedona trails and crossed Oak Creek. I was so excited to cool off on the water and give my feet a well-deserved treat. While in the river everything felt perfect. But about 30 seconds after popping out, my feet seized up. I think it was the shock of going so quickly from hot to cold. I sat on a rock for a few minutes, wincing, breathing, and hoping this would subside. Thankfully, all I needed was time and everything calmed down.
We started a very rocky ascent up a narrow path through Casner Canyon. I think I may need to re-brand as a climber, because nearly every ascent in this race felt damn good. I moved quickly and efficiently, and felt proud doing it.
Photo credit: Travis Schlauderaff (@feelinfrawsh) & Ashley Kniffen (@ashleybkniff) of @silkandsagefilms and @runafilmsco
Quick water stop and break at the peak, and I saw we just needed to wrap around the top towards the aid station. Unfortunately, what looked quick on the map turned out to be a seemingly never-ending dirt access road. The exact same view and terrain for miles and miles. It was the heat of the day, and I started to feel really loopy. I kept telling Kyle I felt like I had the brain scramblies (What We Do In The Shadows reference anyone?!). After at least one (maybe two) trail naps, and just continually stepping one foot in front of the other down the same damn road, the aid station finally appeared. I took some time to rest here and try to slow the brain scramblies, but in actuality this was only a preview of what was to come.
To be continued…..next week.....see you then.....
Ready to create your own adventure? Did you participate in our new Trail Race: Kettle Cooker Five & Dime! When you're ready to suit up, pop in to one of our four locations (Center City, University City, Manayunk, or Glen Mills) or continue your online visit and shop our extensive selection of trail footwear, apparel, accessories, and gear.