Philadelphian Perspectives is our new series in name, but a concept that has been authentic to us for the last 2 decades: highlighting the individuals who give the Philadelphia Running Community its flavor. A lot of us know our favorite Philly races, as well as bucket–list competitions for which we are willing to travel. We'll cover all of those topics with Perspectives, hoping these accounts from your fellow runners are inspiring and relatable.
We recently caught up with Philadelphia Runner Rachel Bambrick for an insight, in her own words, into her experiences with this past year's Cocodona 250. As originally shared on Rachel's personal blog: Rachel Runs On.
Banner photo credit: Anastasia Wilde (@_anastasiawilde)
After a quick eat, rest, and change, Jesse and I headed out into the night and towards our Mingus Mountain climb. We passed the official 100 Mile Marker and with my first step away from the sign I entered unknown territory. I had never run more than 100 miles, so from here on out everything was new.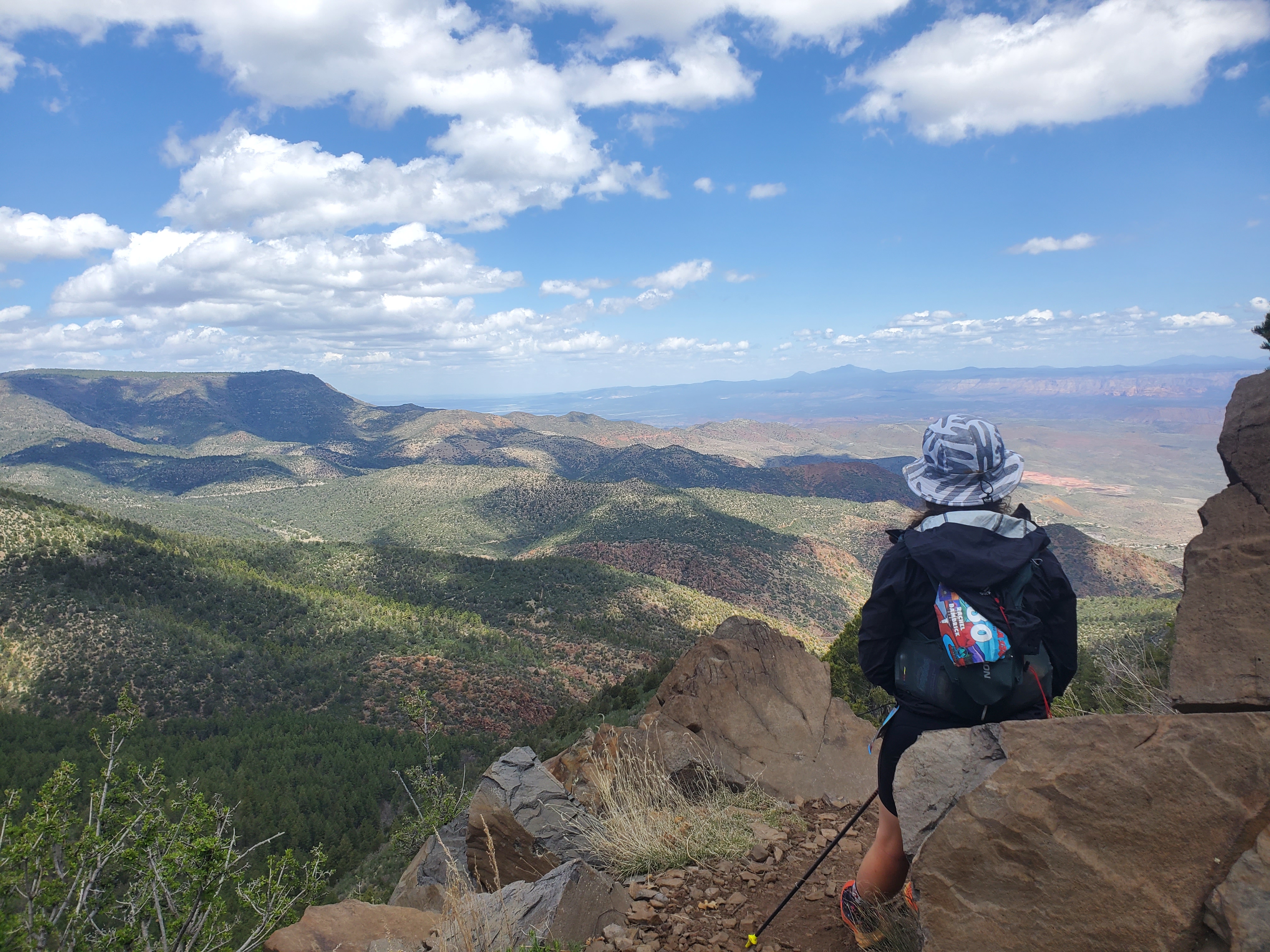 We wound through more pasture, daylight peeked out, and we started our climb (nearly 3,000 feet in 12 miles). This ascent was one of my favorite sections. It was beautiful, I felt strong climbing, Jesse and I chatted in depth about my "why" (more on that later), and honestly before I knew it the elevation appeared to be leveling out. Jesse was the perfect pacer for this tough section (despite hurting from his 100-miler just a week prior) and in my memory we got through it with ease.
The Mingus Aid Station appeared and the first thing I requested was pancakes and coffee (I hadn't forgotten their revival effect from Kamp Kipa), and I scarfed them down. After a quick change, and meeting Kristin's husband and checking in on her, Kyle and I were off towards the descent into Jerome.
I'd read over the description of this section and saw that I was going to be descending over 4,500 feet in 17 miles, while also climbing nearly 2,000. A little voice in the back of my head said "umm…that sounds terrible." But I tried to ignore it. We climbed to the peak of Mingus and took some amazing photos, and then the descent began.
The next 16 or so miles were one of my lowest lows. The descent was relentless and torture on my legs, my feet were throbbing, the trail was technical and rocky, and lots of sections were exposed. My thoughts spiraled, I looked for any chance I could to sit and get off my feet. Eventually it all came bubbling up. All the doubts, all the naysaying voices, all the things inside of me that told me I wasn't good or tough or strong enough to take on Cocodona. I started sobbing. "It's just so hard" I kept saying. I felt completely overwhelmed, but simultaneously so grateful Kyle was there with me. He just let me sob. And sob. And sob. It was incredibly cathartic.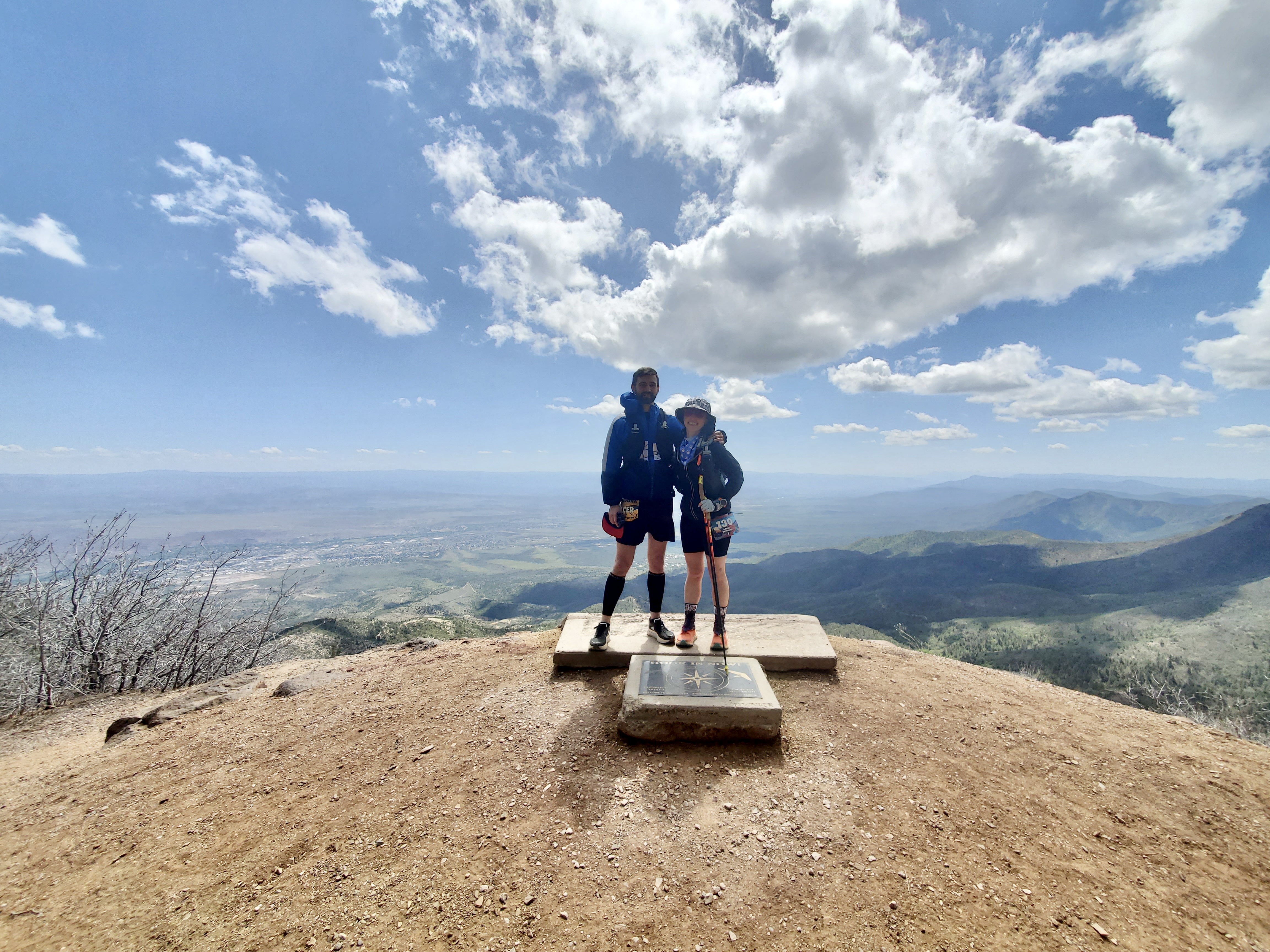 Eventually, after what felt like truly forever, Jerome appeared. I think it's a really cute, historic town, but to be honest I couldn't have cared less at the time. I found the aid station and sat down, completely defeated. I just wanted to rest. But after doing some math and seeing how much time I'd lost I knew resting just wasn't in the cards here. I was so mad, but I stood back up, linked up with my dad to pace, and headed out.
I took off like a literal bat out of hell. I was MAD. I was TIRED. This was HARD. But I was going to fight. I tore down an initial descent (literally, because I fell), and then started running.
Now, I've got to fess up to something here. I dropped my pacer. I was in a make-or-break moment and I needed to run. I found myself stopping to make sure my dad was behind me, and I just couldn't stop anymore. I made sure he had the route, I called my mom to validate my decision, and my dad urged me on "go go!!"
And did I ever! I started dropping ~10:30 min/mi over 125 miles into the course. I knew the faster I moved, the more I could sleep. And I desperately wanted sleep. I blasted into Dead Horse aid and crashed onto the bed breathless. I did it. I was turning my race around.
To be continued…..next week.....see you then.....

Ready to create your own adventure? Did you participate in our new Trail Race: Kettle Cooker Five & Dime! When you're ready to suit up, pop in to one of our four locations (Center City, University City, Manayunk, or Glen Mills) or continue your online visit and shop our extensive selection of trail footwear, apparel, accessories, and gear.