Philadelphian Perspectives is our new series in name, but a concept that has been authentic to us for the last 2 decades: highlighting the individuals who give the Philadelphia Running Community its flavor. A lot of us know our favorite Philly races, as well as bucket–list competitions for which we are willing to travel. We'll cover all of those topics with Perspectives, hoping these accounts from your fellow runners are inspiring and relatable.
We recently caught up with Philadelphia Runner Rachel Bambrick for an insight, in her own words, into her experiences with this past year's Cocodona 250. As originally shared on Rachel's personal blog: Rachel Runs On.
Banner photo credit: Anastasia Wilde (@_anastasiawilde)
I made it into Arrastra aid station and buried myself under a blanket right next to the fire. I was so cold. Note to self I thought, bring your puffer jacket every night!! I met someone else from Philly at the aid station, and as I pulled myself away from the fire and back into the night we exchanged a quick "Go Birds!" (as one does).
The first stretch on towards Kamp Kipa was nothing. The sun was rising, and I was feeling better. Then the climb hit. This section gains nearly 3,000 feet in 9ish miles. Woof. I put my head down and just kept pushing. I caught up with Brandon and we chatted for a bit, remembering each other from day one. Then finally, finally! Kamp Kippa appeared. AND IT WAS INDOORS! I walked into a camp mess hall, scarfed down some pancakes and coffee, took a quick rest on a couch, and WOW. I was a new woman. It was complete night and day, and because of this moment I found myself searching for pancakes at every morning aid station from here on out.
Photo credit: Travis Schlauderaff (@feelinfrawsh) & Ashley Kniffen (@ashleybkniff) of @silkandsagefilms and @runafilmsco
Moving down from Kamp Kippa to Friendly Pines was a blast. It was downhill, open dirt road. I put music in for the first time and ran quite a bit. Rolled into Friendly Pines and got to pick up my first pacer, mom!
We worked our way through the forest surrounding Friendly Pines and it reminded me of home. Sandy trails, cushy pine needles, and the scent of evergreen all around. We popped out of the woods and entered civilization! There was a man cheering runners with oranges and waters from his house. As I emerged from the trees, the song he was playing stopped and abruptly switched to The Rocky Theme Song! I kid you not!! I ran up to him and said, "how did you know I'm from Philly?!?" He stared back and replied, "I didn't!." Another moment of true serendipity along this Cocodona course.
We moved through the paved streets to Whiskey Row, and I was jumping from grass patch to grass patch to avoid the concrete pounding on my feet. When we arrived at Whiskey Row, I made the call to get some sleep a little early. The sun was zapping me, and I needed a break. I scarfed down from pizza and went to the sleep station. I laid on the cot and tried desperately to turn my brain off (easier said than done mid-race). Once I finally got my brain to settle and would drift off…ZAP! My legs would twitch me awake. Of the 2 hours I laid for, I probably slept for about 15 minutes. It wasn't everything, but it was something.
I linked up with Ash and we headed towards the Granite Dells. While I think I needed the sleep when I took it, looking back I do regret not seeing the Dells in daylight. This section is a lot of rock scrambling around Watson Lake, and the pictures look beautiful. I guess we can say we traversed a rock scrambly section at night though, and that's pretty badass.
Photo credit: Travis Schlauderaff (@feelinfrawsh) & Ashley Kniffen (@ashleybkniff) of @silkandsagefilms and @runafilmsco
We pulled into Iron King (after swearing we saw the aid station like 10 different times = ) and I picked up my mom again. We had a nice easy, flat 10 miles into Fain Ranch (about the 100-mile mark). For about the first half of the section, it was a piece of cake. Big open fields, nice cushy ground. Then, as we were about to enter another field we saw headlights in the distance coming towards us. Uh oh…why are they coming at us? We approached and found a group of 4-5 runners who had gotten very turned around in the field. The markings were sparse and a big open field at night can be extremely disorienting.
My mom is a champ, and took charge. It took us some time, and a few moments of everyone heading in a different direction so we could figure out the correct one, but we got there. Not without me having a mini meltdown however! I knew there were really nice chairs at Fain Ranch and literally all I wanted to do was sit in one. When this section began taking more time than anticipated and my sleep deprived brain started turning mushy, I struggled a bit. Thankfully, everyone and my mom kept me going.
We pulled into Fain Ranch, I found my "really nice chair" by the fire, laid on it upside down, and closed my eyes. Nearly 100 miles done.
To be continued…..next week.....see you then.....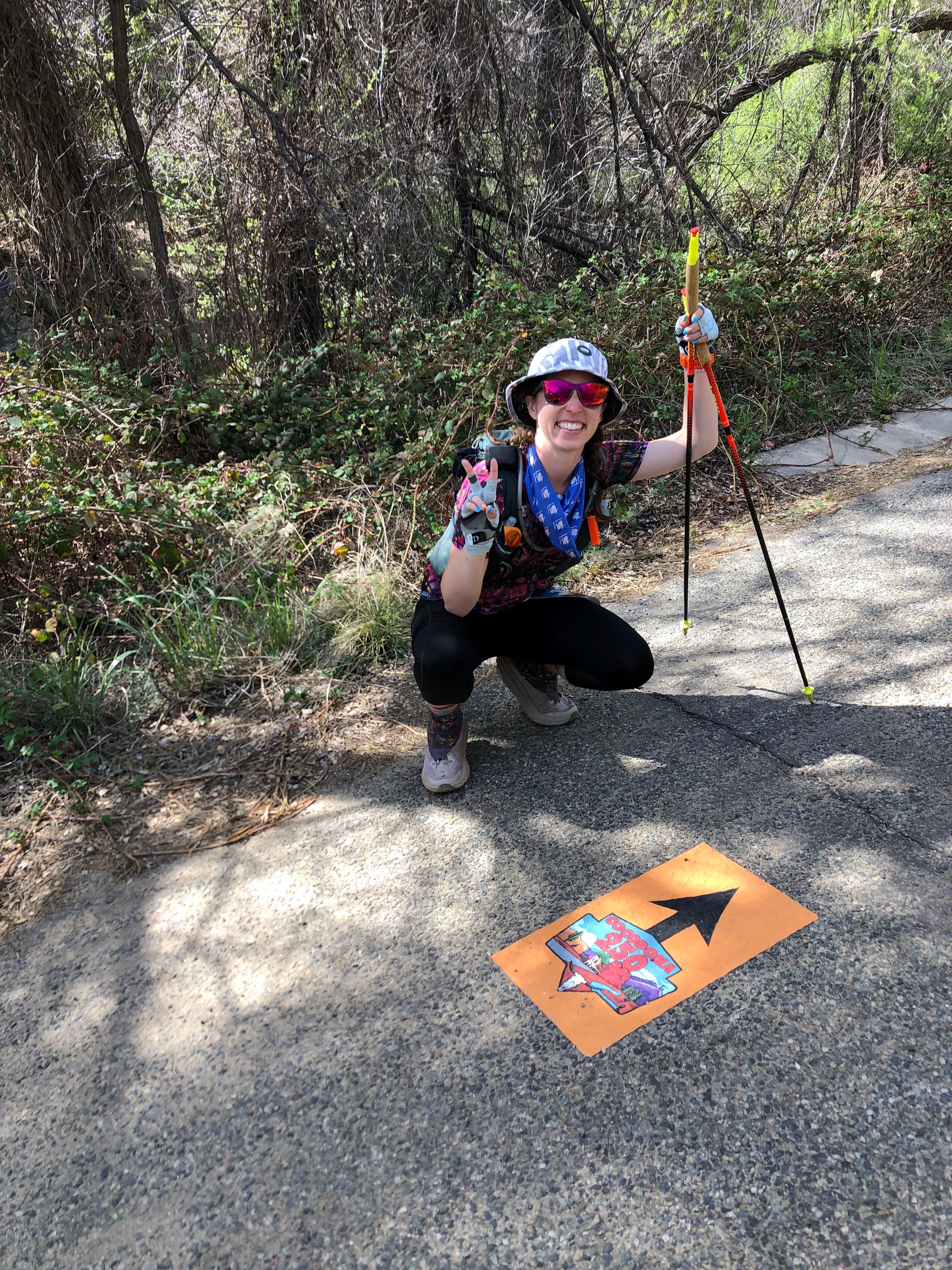 Ready to create your own adventure? Check out our new Trail Race: Kettle Cooker Five & Dime! When you're ready to suit up, pop in to one of our four locations (Center City, University City, Manayunk, or Glen Mills) or continue your online visit and shop our extensive selection of trail footwear, apparel, accessories, and gear.